About Auburn Gear
Auburn Gear, LLC is a leading designer and manufacturer of custom engineered wheel drives, axle drive components, and specialty drives and solutions for diverse mobile equipment applications. Through its expansive product portfolio of planetary gearboxes, electric drive systems, driveline systems, and differentials, Auburn Gear offers more than 120 base product models covering over 3,200 application solutions that transfer power and torque to wheels, axles, booms, augers, winches, and platforms.
Auburn Gear serves distributor and original equipment manufacturer ("OEM") customers that rely on the Company for its unmatched custom engineering and design support, optimized application performance and efficiency, rapid speed-to-market, and the shortest lead times in the industry. With a focus on accounts requiring custom engineering, the Company has built long-standing and collaborative relationships with distributor and OEM customers serving the agriculture, construction, specialty vehicle, aerial work platform, material handling, forestry, mining, oil, marine, military, airport support and automotive/truck end markets.
The Company's proprietary engineering capabilities and superior market responsiveness is supported and complemented by its integrated, in-house manufacturing capabilities:
Design, development, test, and manufacture of products on-site from forgings, castings, and bar stock
CNC machining, turning, gear cutting, gear shaping, broaching, spline rolling, heat-treat, shot peening, and finished grinding
Design validation, gauging, gear and metallurgical testing laboratories
Computer-aided bearing setting procedure, which is unmatched by competitors and patented, provides consistent and repeatable preload and/or end play depending on the application requirements
Heat treating
The manufacturing floor is organized into integrated cells. Orders requiring minor product modification have eight weeks to ten weeks of lead time, which is at least two-to-five times faster than the competition. White paper designs or significant product modifications can be done in as little as six months lead time.
Our ISO 9001:2015 Certification provides the world's most widely recognized assurance of Quality Management System applications, ensuring our products and services consistently meet customer requirements and continually help to improve our business practices.
Auburn Gear currently employs approximately 175 employees, which include 45+ Product, Application, Quality, Metallurgical and Metrological Engineers, CAD Designers and Technicians. The Company employs nearly 100 hourly employees, which consist of 75-80 skilled CNC Machinist and Product Assemblers.
Representative Equipment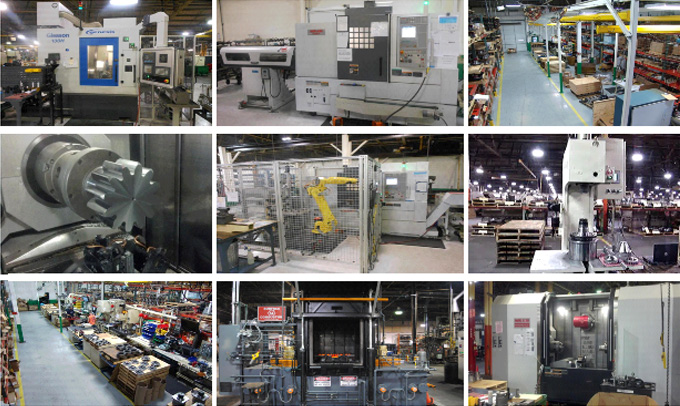 Product Offerings are focused around Four Major Product Lines:
Power Wheel® Planetary Gearboxes
Sold under the industry's premier brand name, Power Wheel®, Auburn Gear's planetary gearboxes lead the industry in design flexibility, power transfer efficiency, compact design, and power density. Planetary gearboxes use a highly engineered gear set attached to a power source, such as a hydraulic or electric motor, to multiply torque and reduce output speed to rotate a wheel, swing a boom, spin a drill, raise a ladder, power a winch, turn a conveyor, and many other hydraulic or electric motor applications.
E-Trac™ Electric Drive Systems
Launched in 2012, Auburn Gear's electric drive systems are superior options for OEMs transitioning to electric drives. Sold under the E-Trac™ brand name, the Company's electric drive systems provide customized systems that may include a planetary gearbox, electric motor, integrated brakes, electric steering and controller synchronized to the OEM's operating software, and other functional components.
Driveline Systems
Launched in 2013 and utilizing its planetary gearbox and differential products and technologies, Auburn Gear's driveline systems provide solutions for axle driven, on- and off-road mobile equipment. The Company's driveline systems offer a custom axle / center section package that typically includes a differential, planetary gearbox, air drum or hydraulic disc brakes, and other center section components..
Automotive Differentials
Auburn Gear's automotive differentials are the premier option for enhancing traction in automotive aftermarket applications. Differentials use a highly engineered gear set to multiply engine torque and divide it between two output axle shafts, allowing each shaft, and thus each wheel, to spin at different speeds to enhance traction and turning. The Company's high performance limited-slip differentials and patented selectable electronic lockers provide smooth, fast, high-bias torque-sensing power for on- or off-road traction enhancement that is unmatched in the market.
Representative Applications